The Emperors of London - privileged, spoiled and rich.
They are fighting for a Cause, one that nobody must ever find out about. The danger increases with every move. Against them is ranged an equally powerful family.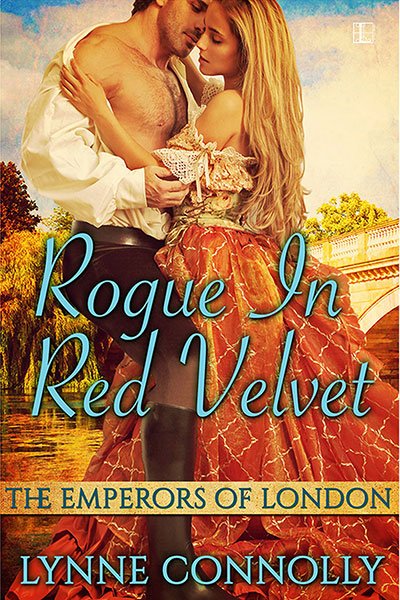 Rogue In Red Velvet
If Connie loses her standing in society, she risks losing everything…except Alex.
When country widow Constance Rattigan finds herself in a notorious London brothel instead of at the altar, only one person can save her from the auction block. Alex Vernon walked away from Connie once before, when he discovered her engagement. Now that her fiancé has betrayed her, Lord Ripley doesn't intend to leave her again. But Connie has other ideas… She won't marry him until her name is cleared.
Alex decides to make Connie's wishes come true, but it's not that easy, even with the help of his powerful relatives known as the Emperors of London.
Buy the Book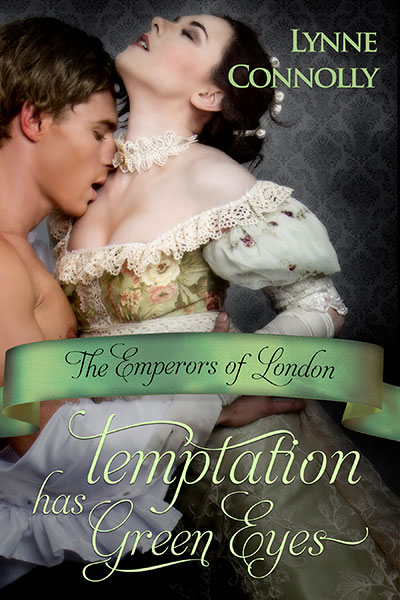 Temptati0n Has Green Eyes
She holds the key to more than a fortune…
There's more to love than meets the eye…
The daughter of a wealthy merchant, Sophia Russell has no interest in marriage, especially after a recent humiliation—and especially not to Maximilian, Marquess of Devereaux. But it's the only way to save herself from fortune hunters—and those who wish to seize a powerful connection she prefers to keep secret—even from her future husband…
Marrying Sophia is the only way Max can regain the wealth his father squandered on an extravagant country palace. And while Max and his bride are civil, theirs is clearly a marriage of convenience—until a family enemy takes a questionable interest in Sophia—one that may lead all the way to the throne. Forced to become allies in a battle they hadn't foreseen, the newlyweds soon grow closer—and discover a love, and a passion, they never expected…
Buy The Book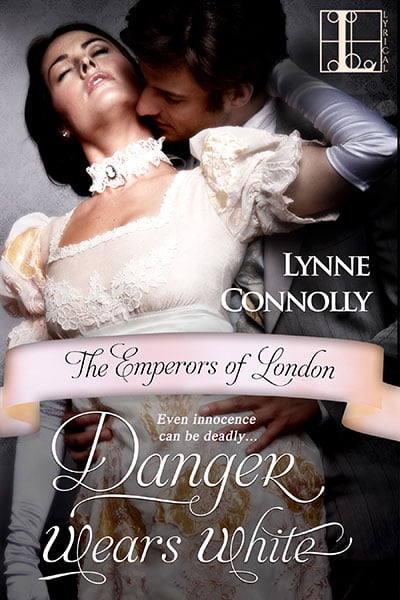 Danger Wears White
Hoping to live down her family's connections to the traitorous Jacobite cause, Imogen wants nothing more than a quiet life in the country. When she stumbles upon a wounded man, the white cockade in his coat tells her he's a Jacobite, and a danger to the crown. Yet there's something about him she can't resist . . .
In search of a document on behalf of his powerful family, Tony is shot and left for dead. Secreted away to a hidden chamber, he finds himself both a guest and prisoner of a beautiful but mysterious woman. What she wants and who she serves, he cannot know. But what he does understand is the desire burning strongly between them. And that neither of them will be spared until their lust is sated.
When the action moves to London, suddenly it's Tony who has to act to save Imogen. Forced to become a lady in waiting to Princess Amelia, she is in peril from the Jacobites, who are convinced she is their salvation. Only the strength of Tony and Imogen's love can save them now.
"Lynne Connolly writes Georgian romances with a deft touch. Her characters amuse, entertain and reach into your heart. This book is a Must Read." —Desiree Holt
Buy The Book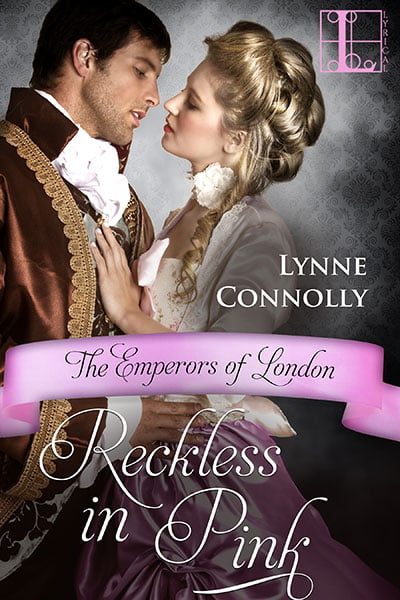 Reckless In Pink
Like the royals for whom they were named, the Emperors of London family have enemies and rivals of their own…
As a soldier for the Crown, Dominic is charged with locating the Young Pretender to the British throne so he can be tried as a traitor. But his mission is altered when he meets Claudia Shaw, an intriguing young woman who has inherited a house of ill repute. In an effort to protect Claudia from her own recklessness, Dominic finds himself allowing the Pretender to slip away…
Claudia is one of the Emperors of London, but her family despairs of her impetuous behavior. And try as he might, the disciplined Dominic cannot quite curb her excesses. In fact, she soon drags him into her adventures—and toward a passion neither can resist. But when a deadly secret comes to light that puts their lives, and their love, at risk, Claudia won't allow Dominic to sacrifice himself. She is determined to have him—even if it means getting the Young Pretender out of the way herself.
Buy The Book
Amazon : Apple : Google : Kobo : Nook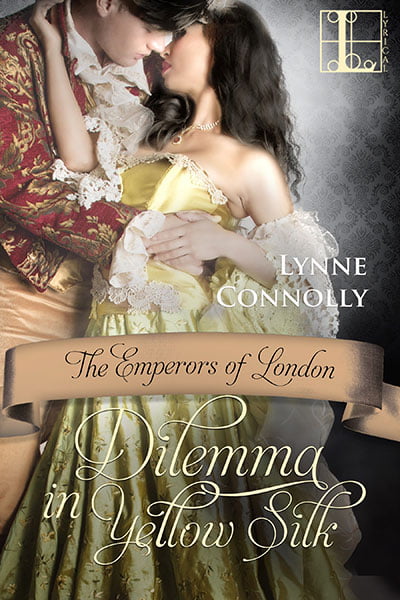 Dilemma In Yellow Silk
Ever ready to do the right thing, The Emperors of London act bravely—and when it comes to matters of the heart, impetuously…
Despite her cover as the daughter of the land steward for Lord Malton, Marcus Aurelius, spirited Viola Gates is tied by birth to the treacherous Jacobite legacy. Not that this keeps her from falling for the dashing Lord from afar. Despite his staid demeanor, Marcus is devastatingly handsome—and hopelessly beyond her reach. Then Viola's father is mortally wounded and her secret identity revealed, sending her straight into danger's path—and Marcus's arms…
For years, he'd only known her as a wild child, the tempting—and forbidden—daughter of his trusted steward. But when Viola's life is threatened, Marcus must act as duty—and his barely contained passion—dictates. Ferrying the bold beauty on an eventful journey to safer quarters, he offers her the protection of his name. Their tempestuous union might succeed in vanquishing their enemies, but will the chivalrous lord and his unsuitable wife surrender to the power of love?
Buy The Book
Amazon : Apple : Google : Kobo : Nook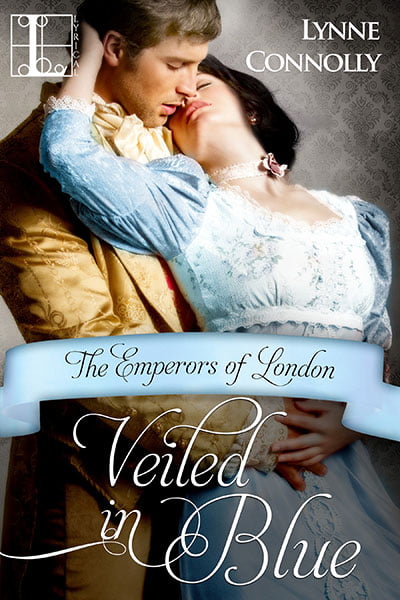 Veiled In Blue
It is up to the Emperors of London to protect the throne—without risking their hearts…
Governess Eve Merton would have fallen into serious trouble on her walk home if a handsome stranger had not stopped to help her. But when Mr. Vernon gives her a lift on his horse, he makes no secret of his attraction. As a well brought-up young lady, Eve does her best not to notice, but when he sets about courting her, she knows she's in trouble. For she has a secret: she is the daughter of a deposed king, which means not only is she without a dowry, but also that her life is in danger…
Little does Eve know that Mr. Vernon has secrets of his own. In truth, his name is Julius, Lord Winterton, and he's well aware that Eve is the offspring of the Old Pretender. In order to save his sister, he must convince Eve to wed—though he wants nothing to do with love. But as the two grow closer and an attempt is made on Eve's life, Julius may realize that fighting his heart's true desire is a battle most pleasurably surrendered…
"A read with plenty of heat." –RT Book Reviews
Buy The Book
Amazon : Apple : Google : Kobo : Nook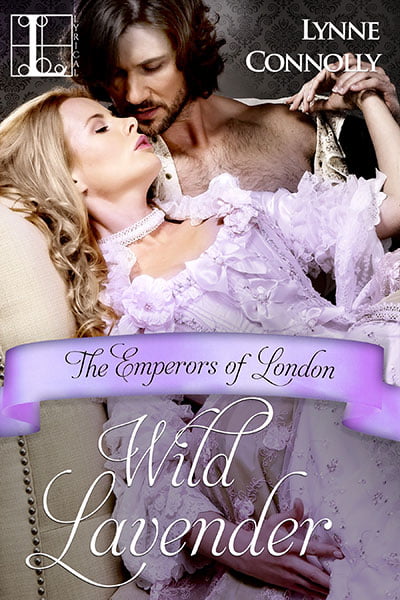 Wild Lavender

A riotous passion and a forbidden love jeopardize the future of the Emperors of London . . .
Ravishingly beautiful and accomplished, Helena has her pick of suitable bachelors—and because she is the only daughter of a powerful duke, her mother is determined she makes a good marriage. But Helena won't marry any of them, because she is in love with the son of her family's most dangerous enemy. Though she has now been rebuffed by her beloved, she is resolved to win him back—no matter the cost.
Tom's forbidden love for Helena has only intensified over the years of their separation. But the discovery of his true roots has changed everything. His secret spells danger for his family and everyone he loves. Devoted to Helena, he will sacrifice anything—even his one great love—to keep her safe. And soon, caught between warring factions and hounded by a deadly assassin, the couple will be swept back together in a fight for their lives, and their destiny…
Buy The Book
Amazon : Apple : Google : Kobo : Nook