I'm Lynne Connolly, and I write stories. I always have, since I was seven years old, and wrote my own version of Sir Gawain And The Green Knight – the way I wanted it to be!
Now I'm lucky enough to write about the people I dream about and to share them with you. My first love is history, but I also write contemporary and paranormal romance.
Another colleague has lost all her work! I worked out a detailed backup strategy and I'm delighted to be able to share it with anyone who is interested. You can find it here.
My latest book is an addition to the Daring Dersinghams series, previously in an anthology. There is another full-length book and at least one more short story before the series is finished!
Join my newsletter, email me, and join my Facebook and Twitter pages from the links in the menu!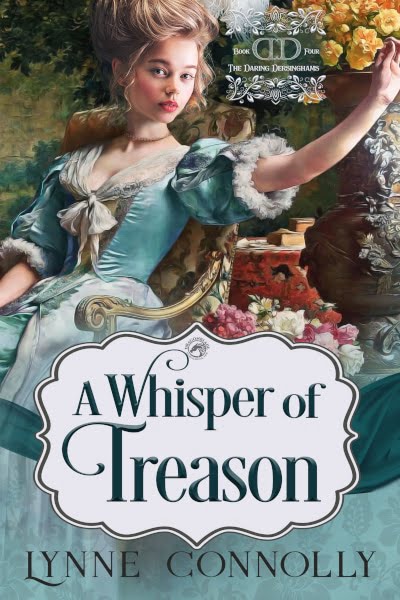 A Whisper of Treason
Marrying the love of her life means Delphi might have to leave the family she is so close to. Forever.
Marriage isn't for Delphi…
Only one man ever penetrated Delphi Dersingham's obsession with the ancient world, and he abandoned her. She tells herself she doesn't need anything else. Until the morning she is seized and ruthlessly kissed on the steps of Trajan's Column.

Until Adam comes back…
Astonished to see the love of his life in Rome, Adam, Duke of Kilsyth, claims the kiss he's been longing for. Under suspicion of being a Jacobite like his father, Adam is threatened with the ruin of everything he has worked for since the death of his father at Culloden. How can he drag Delphi into the mess his life has become? Except, by that impulsive kiss, he does.

Can she marry a traitor? If he is a traitor, that is…
Adam and Delphi discover the dangerous Jacobite plot his brother Frederick is embroiled in. The hare-brained plot to assassinate King George in London threatens Adam and Delphi's happiness. Nothing is what it seems in this topsy-turvey world. Only one constant remains, their love for each other.
But if they don't solve a devilish cipher and discover the true culprits, their future together is in peril.
Read FREE in Kindle Unlimited!
Buy the Book:
Betting On Love
Garrett Rocquelaire needs a wife. Fast. The woman he catches card-counting in his Las Vegas casino will do.
Bonnie Miller can foretell the future, but only five minutes before it happens. The first time she tries to use her gift on the blackjack tables she's caught by the most gorgeous man she's ever met. Being made to marry him won't be a hardship.
Until somebody tries to kill her.
It's up to Garrett to find out who is targeting her. Then he can move on, except for one thing.
The way they burn up the night together.
Buy The Book Here:
Amazon :  Kobo :  Apple iBooks : Barnes and Noble : Book2Read universal links

Virginia And The Wolf
The Society for Single Ladies, Book 3
Virginia, Lady Dulverton, feels safer keeping the world at a distance. One man sees through  her reserve to the woman beneath: the infamously rakish Francis, Earl of Wolverley. Now a widow, Virginia is wrangling with the terms of her late husband's will. When she realizes Francis is in danger because of his connection to her, she feels compelled to help, regardless of the hazard to her own heart.
Francis has worked hard to strengthen his inheritance. But he's also found time to play. Despite his many dalliances, his affections have never been involved. Those belong entirely to a woman he could never have. When he's attacked in the street and told to leave Virginia alone, he decides to do exactly the opposite . . .
With the help of the Society for Single Ladies, they set out to discover who is targeting Virginia, and why.  It's a race that will lead to the Devonshire coast, a smuggling ring, and a love that, however perilous, is worth waging countless battles . . .
Order The Book Here:
Amazon :

Read an Extract
The Roman gods create havoc in Georgian Britain, in this historical paranormal series!
This is a re-release of the popular series from Samhain Publishing, now out at a lower price and with brand new covers!
From all good suppliers of ebooks. Print versions to follow!