This was the first series I ever had published, and I'm so very proud of it.
the first Richard and Rose book
A spooky old house, murder and two people who find the love of a lifetime.
Passion, murder and unexpected love wait for Richard and Rose in Yorkshire.
When Rose Golightly accompanies her family on a visit to their cousins in Yorkshire she finds the once great Hareton Abbey is run down, ruinous. The only other guests at Hareton are the Kerre brothers, intimidating and haughty leaders of society.
A double tragedy throws Rose into the company of Richard Kerre, Lord Strang, when he is seriously wounded in the coach accident which leaves two people dead. They discover that what at first appeared accidental was in fact a deliberate act of sabotage. Rose and Richard set out to solve the mystery, and find passion in each other.
But Richard is to marry the frigid Julia Cartwright in a few weeks, and has deliberately closed his heart to love. He has turned his thoughts away from passion—until he meets Rose.
Love will not be denied and after a taste of Rose, Richard refuses to let her go.
"Yorkshire" finalled in the 2003 EPPIES.
Buy the Book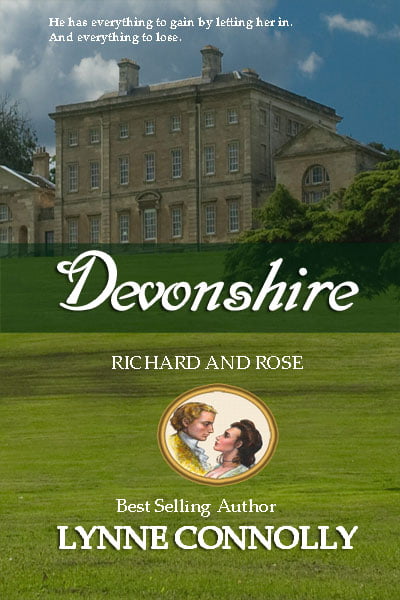 Devonshire
Devonshire society used to snub Rose Golightly. Now she finds herself a sister of an earl and the fiancée of one of the most admired men in society. Rose has always felt awkward and unsure of herself. But with Richard at her side she can face anything. And with him in her bed, she can be sure of lifelong passion.
Her brother's refusal to collude in the smuggling that has plagued the Devonshire coast puts them in danger of their lives when the smugglers decide to take matters into their own hands. The gangs rule the coast, but when Rose's brother stands up to them, it puts Rose's life in danger.
Richard, Lord Strang keeps everyone at a distance apart from his twin brother Gervase and his adored Rose. Behind his sophisticated facade lies a man of shrewd intelligence, fierce loyalty, and deep devotion to those he loves. He is a man of principle who will fight when cornered, and dirty when he has the need. But Rose doesn't yet know all his secrets.
It's time to let Rose into every part of his life. Otherwise, he could lose her.
"Devonshire" was nominated for the 2003 Dorothy Parker Award for Excellence
Buy The Book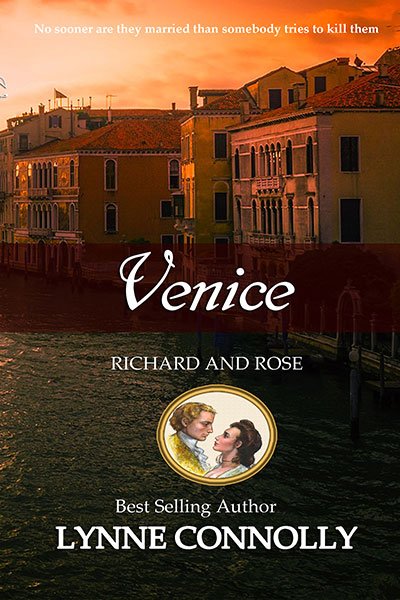 Venice
Venice is perfect for their honeymoon. Unless an assassin plays his cards right…
Richard and Rose, Book 3
At long last, it is Lord and Lady Strang's wedding day. Yet no sooner do Richard and Rose leave their wedding breakfast than two shots ring out, forcing a hasty change in honeymoon plans. Instead of traveling together by yacht, Richard goes on ahead, making sure the road to Venice is safe for his beloved.
Rose is by no means alone, however. Along her journey by packet, coach, even mule, she befriends a charming young couple, the Ravens, who have a strange confession to make. They claim they are traveling incognito—and are really the newlywed Lord and Lady Strang!
Once reunited in Venice, Richard and Rose heat up the sheets, making Richard consider the delightful possibility of keeping his wife in bed for the rest of their stay. Except Venice is as full of knaves as London, and one of them is still trying to find them with a bullet.
The Ravens could hold the key to the assassination attempts. Or perhaps they are playing a deadly game of their own…
Buy The Book
Amazon : Apple : Google : Kobo : Nook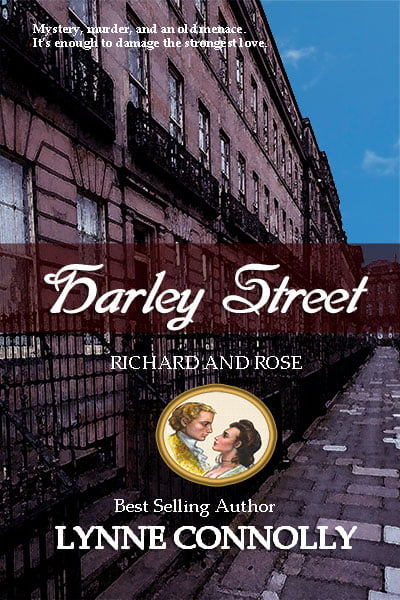 Harley Street
Richard and Rose: Book Four:
Mystery, murder, and an old menace. It's enough to damage the strongest love.
Lord and Lady Strang return from their adventure-filled honeymoon, more than ready to settle into married life. After a few weeks living in his parents' Piccadilly mansion, Richard and Rose are restless for their own home, a space where they can work out the pattern of their new life together.
House-hunting will have to wait. A maid in the household of Rose's aunt has been murdered, an act that forces Richard to reveal a dark secret from his past. Despite the desperate passion they share, marriage requires disclosure—something at which Richard has never excelled.
In light of his revelation, Rose must find the strength to delve deep into the bedrock of their relationship while simultaneously facing the height of London society. As they work to unravel the clues that lead to a murderer, an old enemy launches an attack on their already fragile hearts…
Buy The Book
Amazon : Apple : Google : Kobo : Nook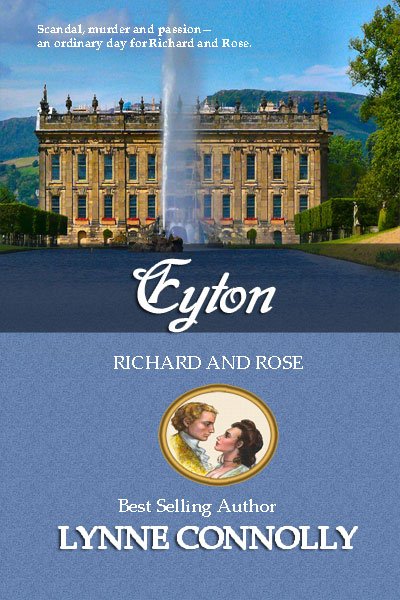 Eyton
Richard and Rose: Book Five:
Scandal, murder and passion – an ordinary day for Richard and Rose
When Richard and Rose visit his family estate in Derbyshire to celebrate the christening of their firstborn, Rose comes face to face with some hard realities about the powerful Kerre family. The vast majority of them are far from delighted with Richard's choice of wife. Plus, they think a man who shares his bed with his wife every night must have something wrong with him.
Rose is driven half mad by Richard's overly careful love for her. Somewhere underneath that smooth, sophisticated surface lies the passionate, intense lover she longs for—and she takes steps to seduce that savage lover back into her bed.
Their joyous occasion is marred by the theft of a valuable necklace. Richard's family looks to him to solve the crime—but something isn't adding up. Evidence pointing to two trusted servants seems too convenient…and then they're murdered.
From the tangle of jealousies, secrets and desperate lies, Richard and Rose once again dance on the edge of danger to achieve justice—without dragging the family name into public scandal.
Buy The Book
Amazon : Apple : Google : Kobo : Nook
Hareton Hall
Secrets can destroy you—and the one you love most.
As Richard returns with Rose to her childhood home of Darkwater for two weddings, romance is in the air—but so is trouble. It begins with Rose's stolen watch. Tensions rise when they learn their old adversaries, the Drurys, have taken a house nearby. A series of attacks on those they love, plus a rise in smuggling activity, only add to the threat of violence.
Then illness strikes at the worst possible time, threatening everyone in the district—especially the children. Questions abound: Was the infection deliberate? Is someone striking at Richard through Rose, or are their enemies targeting Rose for information she possesses?
Richard calls on his resources, public and private, to counter an enemy that threatens to destroy his beloved Rose. Rose is no helpless victim, however, and refuses to let anyone—even Richard—take away her independence. She finds ways to fight that aren't in his armoury. Whether he likes it or not…
Buy The Book
Amazon : Apple : Google : Kobo : Nook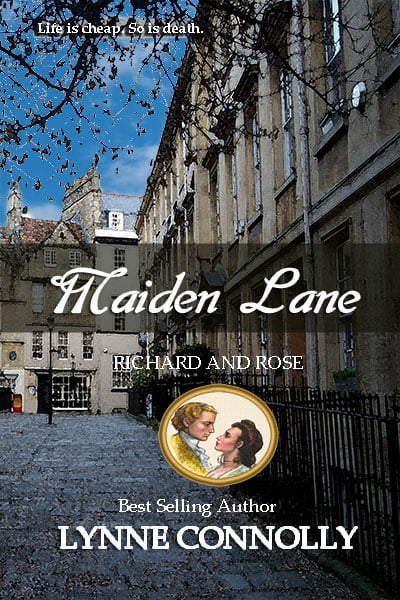 Maiden Lane

Life is cheap. So is death.
With Rose expecting again, it should be a joyous time for her and Richard. Yet old enemies and new come out of the woodwork, seemingly intent on using whatever means possible to destroy their happiness. Not only is the legitimacy of their marriage called into question, a young man steps forward claiming to be a by-blow of Richard's dark, wild past.
Closer to defeat than he has ever been, Richard musters all his friends and allies to defend against this attack on his own ground. However, no amount of incandescent lovemaking and tender care seems to keep Rose out of harm's way.
Then a mutilated body turns up on their doorstep—and all fingers point at Richard. Rose has no choice but to emerge from his near-smothering concern to do what she must to save the love of her life. Even if she must appear to work against him.
As she lays her heart on the line, Richard fights to keep the violence that marks his past from claiming her life. For if he loses Rose, with her will go his humanity.
Buy The Book
Amazon : Apple : Google : Kobo : Nook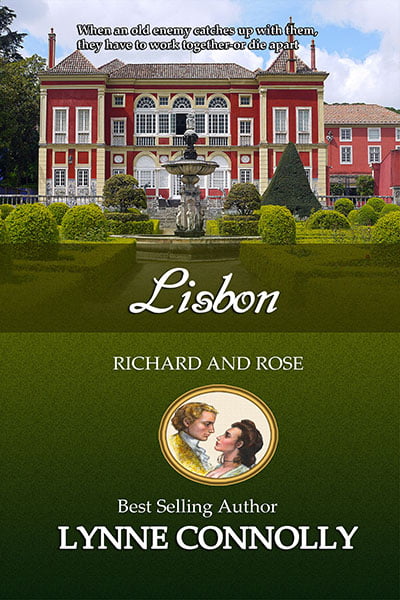 Lisbon
They can escape winter's cold, but their nemesis has a long, icy reach.
Richard and Rose: Book Eight
On a ship bound for Portugal with her children and the man she loves, Rose should be blissfully happy. Except Richard treats her like she's made of porcelain. She's recovered from the childbed fever that nearly killed her, yet he won't share her bed and it's driving her mad.
To win him back body and soul, she resolves to use every wicked, seductive trick he's taught her. Until a possible attempted murder on board puts them both on alert for the trouble that seems to dog their every move.
Richard is almost relieved to have something to investigate. He loves Rose too much to risk losing her—which is exactly what could happen if he gets her pregnant again. When it becomes clear a series of accidents is no such thing, they realize an old enemy has caught up with them.
It's imperative for Richard and Rose to work together to defeat this foe, but their new distance could prove their undoing. Especially when Mother Nature conspires to make them endure one last, desperate test of their love…
Buy The Book
Amazon : Apple : Google : Kobo : Nook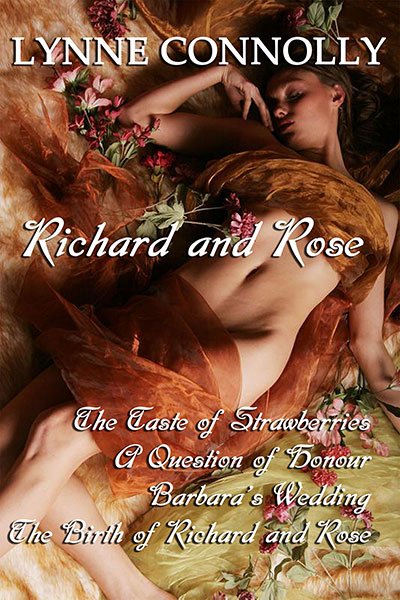 Richard and Rose – short stories

Short stories and a few extras about Richard and Rose.
Richard and Rose live in the eighteenth century, a time of turmoil and adventure. They swashbuckle their way through eight books, and this volume is both a companion and introduction to the main series.
"The Unexpected Samaritan" is a glimpse into Richard's previous existence as a rake and man about town. "A Question of Honour" explains why Richard leaves his family home early to arrive unexpectedly at Rose's home in Devonshire. "Barbara's Wedding" is an account of the wedding of Rose's best friend, and also shows how close the couple are getting.
You can also read the story of how Richard and Rose came to be, and the story of their publication, in "Farewell, Richard and Rose."
Buy The Book
Amazon : Other Outlets