Virginia married three times – once when her parents told her to, once when she fell deeply in love with a rake, and the final time to the man who had waited patiently for her.
Each husband was an earl of the realm, but in very difficult circumstances. Daniel was the son of her first marriage to a wealthy peer. Orlando and Perdita were the issue from her wastrel husband, who died leaving her in penury.
Corin and his siblings were the result of the long-lasting marriage to the Earl of Taversall.
Now the children are grown and looking for parnters of their own.
The series can be read in any order, but I've put them in order here, in case you want to read them that way.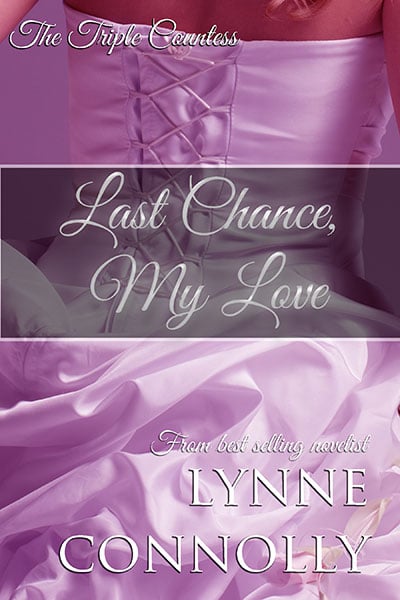 Last Chance, My Love
What if you're in love-but you can't make love?
Miranda and Daniel, Earl and Countess of Rosington are deeply in love. However, Miranda contacted a severe fever in childbirth, leaving her with a high risk of dying should she conceive again. Daniel can't bear the thought of losing his wife and treats her like a porcelain doll, not a real woman.
Distraught, Miranda turns to her brother in law Orlando for advice. Together they concoct a plan that will bring Daniel to his senses, and soon Daniel finds himself on the losing end of a wager. Miranda and Daniel must pose as a simple innkeeper and his wife, working together to save a failing business.
Forced into sharing a bed, searing desire threatens to ruin Daniel's good intentions. Daniel will have to overcome his fear of his wife dying, and Miranda must overcome her inhibitions, to seduce Daniel. Can Daniel and Miranda give in to their love and save their marriage?
Buy The Book Here:
Amazon US  :  Amazon UK  :  iBooks  :  Kobo  :  Scribd   :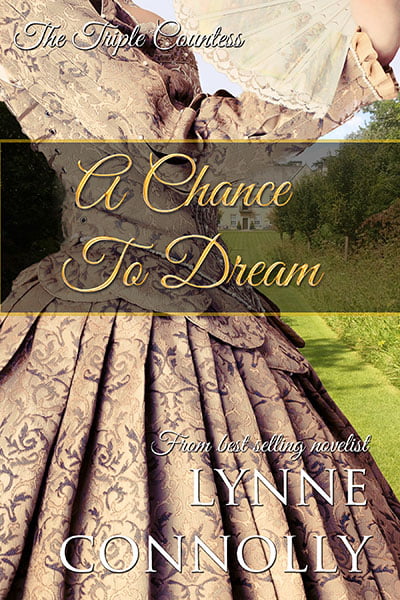 A Chance To Dream
A love too strong to disguise, a disgrace too deep to ignore.
Orlando Garland, Lord Blyth, has spent a lifetime restoring the family fortunes but now it's time for him to think of himself for a change. When he hires a dowdy companion for his invalid sister, it doesn't take him long to suspect "Charlotte" is more than she appears. Yet the lively young woman proves to be good for his sister. And Orlando can't ignore the seductive beauty behind the disguise.
Violetta Palagio's mask has never chafed before-until now. She longs for the freedom to love the handsome Orlando. Yet to reveal herself would be disastrous for them both. She is La Perla Perfetta, the daughter of London's most successful courtesan. For most of her life, her mother has cleverly kept Violetta's identity a secret. Will she risk all that, now the threat that kept them in disguise for so long is finally gone?
For the first time in her life, Violetta is in love. Can she find the courage to come out from behind the mask? And if she does, will Orlando chance everything he has worked so hard to rebuild-for a courtesan's daughter?
Buy The Book Here
Amazon US  :  Amazon UK  :  iBooks  :  Kobo  :  Scribd 
Met By Chance
There's More To This Man Than Satin and Lace.
Perdita Garland is back in society after a serious riding accident sapped her strength and her confidence. The first man who interests her is a popinjay but there is far more under the pampered skin of the enticing Marquis of Petherbridge.
A mistake Perdita makes with the Marquis's spoiled daughter leads to grave consequences and she finds herself in a strange city alone with his lordship, who is now masquerading as a dock worker. The sheer power under his fine exterior astonishes and delights her. But she has to put right a wrong she caused first.
Newly returned to England from the court of Versailles, English society finds Charles Dalton's manners and dress astonishing, but they cover a man broken by a disastrous marriage to a faithless wife. Now a widower and determined not to be fooled again, Charles is nevertheless charmed by Lady Perdita Garland and the steely strength of will under the fragile exterior.
When they are plunged into danger, Charles and Perdita have to cope with a dilemma that could ruin the lives of more than one person. Drawn to each other by a desire neither has known before, they are forced to rely on each other's strengths to win the day.
Buy The Book Here
Amazon US  : Amazon UK  :  iBooks  :  Kobo  :  Scribd  :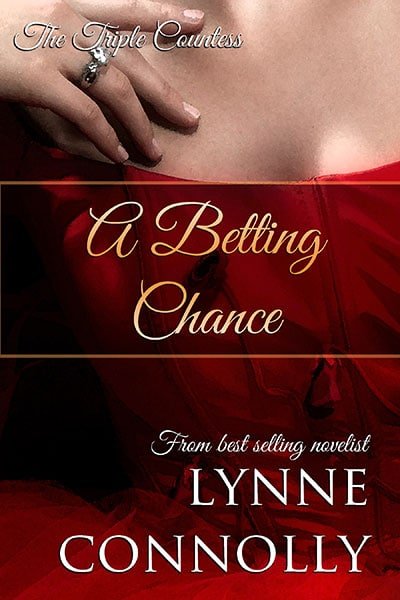 A Betting Chance
In this game of hearts, winner takes all.
Sapphira Vardon needs five thousand pounds to avoid a cruel marriage and a grim future, and there's only one path for her. Don a mask and an assumed name, and risk everything to win at the gaming tables. First, though, she has to get through the door. Luckily she knows just whose name to drop.
Corin, Lord Elston, is curious to find out who used his name to gain entrance to Mother Brown's whorehouse and gaming hell. The enigmatic woman who calls herself Lucia isn't the sort of female usually found here. Behind her mask and heavy makeup, she's obviously a respectable woman—who plays a devilish hand of cards.
Sapphira is desperate to keep her identity a secret, but Lord Elston's devastating kisses and touches demand complete surrender. And once he learns the truth, there's more at stake than guineas.
Corin finds himself falling hard for a woman who's poised to run. A woman who's about to learn that he only plays to win.
Buy The Book Here
Amazon US  :  Amazon UK  :  iBooks  :  Kobo  :  Scribd