A STORM book
With his enemy dead, Jack Hargreaves is sent to Oxford, England, to reconnect with an old friend. One who has sinister links with an old enemy of STORM and Talents everywhere.
Not only does Jack have to lay the ghosts of his past, he meets a new challenge–Emuishere Baymoui, a gorgeous Egyptian cat shape-shifter.
Shere is sent from UK STORM to tie up a few loose ends. Assassins often do that. So how will Jack react to the news that she has orders to execute two of his old friends?
eBook ISBN · 9781419929472
Publisher · Ellora's Cave Publishing
Genre ·Paranormal Romance
Length · Full Length Novel
Check links for more places to buy the books

Note – You have to be at least eighteen to read this excerpt
When Shere opened the material, she gazed in wonder at the toned, lightly tanned body underneath. "Wow." She ran her hands, fingers splayed wide, over his firm, well-defined muscles. "You work out."
"My cat does. I just go along for the ride." Jack grinned down at her. "I always worked out. I got my black belt when I was seventeen."
"Mmm." She smoothed her hand over the planes on his chest, savoring the heated skin under her palms. "So all this geek stuff is a disguise?"
He stole a swift, hard kiss before he answered. "Not entirely. I came to Oxford and studied librarianship, archive research and preservation. I loved it. So yeah, the geek's in there somewhere." He moved against her, grinding his iron-hard shaft against her belly. "So which do you want, the geek or the sex god?" He laughed as if he'd made a joke.
She bit her lip and moaned. "I want that cock inside my cunt now. That clear enough for you?"
"I think I can handle that."
Against her silk-covered pussy that bulge felt divine, but she wanted more and fast. A quick, violent coupling would suit her fine and he seemed up for it. More than up for it. Her panties clung to her cleft with the dampness she'd caused, or rather he had. But he stopped her reaching up to tear off her bra, putting his hand over hers where it lay poised over the front clasp. "I want anticipation," he murmured. "I want to guess, to stroke, to feel. Now I know you want it too, let's make this a three-course meal rather than a quick snack."
A snack sounded great to her, but she'd let him set the pace, just this once. He cupped one breast, her left one. She met his gaze as he explored her through her bra. And frowned. "Padded?"
"Keeps me warm," she suggested, but smiled. "Honestly, Mickey has a look I don't trust. In the old days he'd have been a bottom-pincher."
Laughing, he reached around and tweaked her barely covered backside. "Sorry, couldn't resist." But he lingered to open his hand and smooth it over her flesh. "Delicious." With one hand on her butt and the other on her breast, he made her feel possessed. To her surprise, she loved it. His hands were surprisingly big. Watching them on the keyboard or picking up a mug of coffee earlier that day, she hadn't noticed. "Artistic," he suggested as he picked up on her thought. "Although I don't think I have an artistic bone in my body."
She wriggled on his erect cock, not enough to dislodge his hands. He slipped his hand to the top and between her thighs, and his resulting moan sounded heartfelt. "So wet. We'd better not keep you waiting. Do you want to use a condom?"
"Why should I?" Having two creatures, the cat and the human, meant few shape-shifters carried a disease through a change of form. The cat rejected the diseases the human contracted, and vice versa. But Jack was new, she recalled. "You're not used to doing it bareback, are you?"
He shook his head. "Sorry. But it's still polite to ask."
"God, you're so British!"
Now he laughed. "Part of me is. But thanks. And sorry." He gave her a contrite look, his expressive eyes begging her pardon.
Propping herself on her elbows, she gazed at his face. "No. I liked it. I don't know what it is about you, but you're different somehow."
"Close to human."
"I've slept with enough of those." She bit her lip. "Oh God, I'm sorry. Bad etiquette to mention previous experiences."
He didn't seem to mind. He laughed. "Now all we need is for me to ask how old you are. No, don't even think about answering me. I know it doesn't matter to shape-shifters." He stared at her and his hand, the one over her breast, moved to the clasp. "I can't feel much under this. Let me see. Let me feel. Let me touch."
The way he said it sounded like a litany, something poetic. It drove her desire even further. Her body tingled where he touched it. When he finally pinched the clasp open, her sigh of relief came harder than she'd meant it. When his hand touched her breast, it felt even better. Warm and caressing, gently touching, exploring with his fingers first before he nudged her bra cup aside and looked. She leaned on first one elbow, then the other, as she freed the straps and let the garment fall aside, slipping down her back before it fell, disregarded, onto the bed beside them. He looked, touched, and finally took her nipple between finger and thumb and pinched, though not hard. Shere wanted hard. She wanted it now. His gaze locked with hers until, at the last possible moment, he leaned forward and licked the very tip.
"Oh!"
His tongue wove a pattern over her nipple, tantalizing it with touches to different nerve endings, making her feel every single one. It sparked a line through her breasts, to the very center of her being. As if he were playing an instrument, only the instrument was her.
She thrust her breasts toward him in offering. He accepted, releasing her nipple with his fingers so he could suck it into the hot, wet depths of his mouth. Finding it harder to maintain her balance, she shifted a little. He lifted his free arm around her waist and swung them around so she lay under him.
Shere didn't enjoy the vanilla, missionary position. Too subservient, she considered it. But right now she'd stopped caring, only glad she had her arms free to hold him. Now she could pull his shirt off completely and run her hands up and down his back. She reveled in the way his muscles flexed and contracted as he moved. Jack sucked until he released her nipple with a slight pop, and then kissed his way across to her other nipple where he settled in to enjoy. He sent her a constant stream of warmth and pleasure, nothing deeper, nothing to disturb the messages of happiness and enjoyment feeding her senses.
His hands roved over her, but he hadn't yet removed her panties or ventured underneath them. Once or twice he skimmed over her mound and she tensed, but he moved on without pausing.
Feverishly, Shere groped for the front button and the zip on his fly. She lifted her legs, positioned herself under him so she could use her toes to urge his pants off. His lusty chuckle drove her on to try harder, and she managed to hook his underwear too. He raised up a little to make it easier for her, but didn't stop sucking and licking. He made her cry out when he added a nip, the small shot of pain pushing her to new heights.
She shoved his pants down, enough to feel his smooth, hot flank under her toes, and then brought her hand around to take his cock.
Thicker than she'd imagined, longer, enough to make her mouth water. Maybe he'd let his cat out to play. He released her breast and lifted his chin to stare at her. "Not likely. Did you know that normal cats have a barb in their dicks? They sting the female at the point of ejaculation to stimulate the release of the egg. A bit redundant, since your egg won't be ready for another couple of weeks, but ouch! Unless you're into pain?" His mind and his gaze held only query, not condemnation.
She could reassure him on that score. "No more than usual."
"Neither am I. It comes anyway." She sensed a touch of darkness in his last response. Shere hastily pushed her mind away from it. She didn't want anything to spoil this and she wanted to bring nothing but pleasure to him now.
He came up to kiss her, lavishly and with a delight she could gladly reciprocate. Then he went back to one breast, then the other, reacquainting himself with them and her with his touch. Down to her navel, tracing its shape with the tip of his tongue, then farther.
She tensed. She wanted to touch his cock again. She could scent his arousal and hers, mouthwateringly tempting. This was why she disliked the missionary position. The man could pin her down and do what he wanted. But since Jack was reading her, reacting when another shot of pleasure arced through her by doing it more, she didn't mind too much. Yet.
He licked across her belly, made her squirm, and still he hadn't taken her panties off. He rectified that, stripping the garment off her soaking pussy and murmuring in appreciation. "Like unpeeling ripe fruit. Oh baby, that looks so good!"
She didn't like anyone calling her "baby" either, but in his American-accented English it sounded like a verbal caress. He touched her labia and she squeaked and flinched, so sensitive. Then he put one hand on her stomach to hold her steady while he separated the lips and stroked down the center with one finger.
"Ah, fuck, that feels great!" So did his finger on her clit. Just one finger. She didn't need any more. Oh but she did, she did.
That diabolical squeeze again, a pinch from his thumb and forefinger. "You should see this, Shere. The hood rolls back for me, exposing everything so I can do this…" Suck it into his mouth, that was what he meant.
Reviews and news
Once again, Ms. Connolly takes the reader on a wild ride that starts out hot and turns blazing. Bad enough that Jack and Shere meet unexpectedly on a joint mission that wasn't supposed to be one, but once the sparks start to fly there is no putting out this inferno. Then we get to toss in a hunky vamp by the name of Oliver – an English lord no less – who just happens to have a history with Shere, which turns the heat up even more. Be prepared to enjoy, this book is one hot number.
Samantha Ann for Night Owl Reviews – Night Owl Review Top Pick!
The storyline was amazing and get ready for the twist and turns of this story. The passionate scenes in this story are hot and steamy. Just the way that they reach for each other and the passion they show towards each other is amazing. No matter what paranormal characters you may be interested in this has a little bit of everything. You find yourself warming up to this story and enjoying it from beginning to end.
LynnMarie for Happy Ever After Reviews
This is not my first time reading one of Ms. Connolly's novels and it won't be my last one either! She did a spectacular job with her well-plotted story, creating characters that were so believable that I found myself racing to the end to see how the story finished. Her villain turned out to be not who I suspected at all and they were quite the psychopath too.
Goddess Minx for Literary Reviews
This is my first Storm book, but I'm glad to say not my last. I didn't at any point feel I was missing anything having not read the others, but I have fallen in love with the quirky characters who are not only loyal and loving, but fight the bad guys and who have magic.
Hollie for The Romance Studio
I fell in love with Jack's innocence and spice for life. He has a way of making you enjoy his company even as a reader. At points I almost felt as if he was sitting in the room joking with me. Jack has experienced so much heartache and rejection it is amazing he has maintained the purity of his personality and hasn't become bitter. It speaks greatly of the author's ability to paint a great character and how strong this character must have been in her mind to cause me to love him as much as she did.
If you love supernaturals with strong personalities this is the story for you. With shifters, vampires, sorcerers and a few other questionable characters, this story oozed paranormal excellence.
So lets get down to the check list: Great characters? Check.  Exciting plot? Check. A must read story? Double check.
Peppermint for Whipped Cream Reviews
I expected the danger, and of course the erotic sex from one of Ms. Connolly's paranormal books, but this one was the hottest I can remember in a long time.  I loved how fast and well all the agents got into the groove to solve the case.  I expected a different ending but loved how the triangle was worked out.  Emotion in Motion will burn your fingertips with its eroticism, as well as the excellent suspense, as you flip the pages.
Jo for Joyfully Reviewed
I love reading how each of the Talents' abilities is revealed as the story unfolded adding a paranormal flair. The emotional bond between Shere and Jack was wonderful to read as it unfolded and changed their lives forever. I will be waiting impatiently for the next book in the Red Alert series.
Teresa for Fallen Angel Reviews
STORM - Talents are here and everybody knows it. Top of page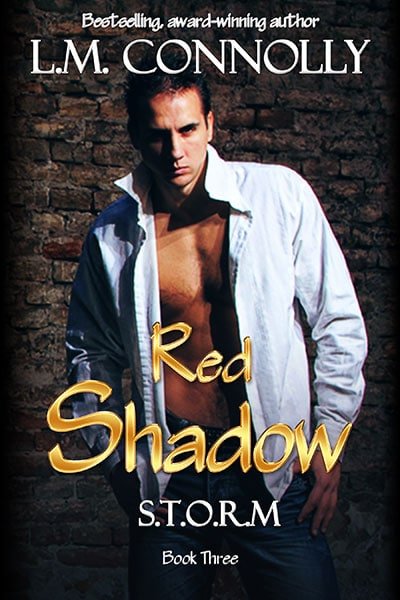 When a dragon flies over Central Park, he jolts the world into awareness